Join the Preparedness Committee
BOMA/Chicago members meet with public sector partners each month to discuss preparedness issues.
Educating policy makers about industry trends and best practices to foster a deliberative, cost effective regulatory environment surrounding codes and standards.
Holding the distinction of being the only local BOMA organization that negotiates directly with unions as the collective bargaining agent for our members since 1902.
Partnering with first responders and developing training and resources for property managers to ensure tenants, staff and buildings are safe in an emergency or natural disaster.
Leading the nation in green building stock and embracing sustainable practices, while advocating for objectives to be met through market driven initiatives.
Ensuring public policy on taxation and fiscal decisions on the local, state and federal levels are made with the intent of building a competitive business environment.
Providing Valuable Resources, Education and Strategic Partnerships
In addition to our long-standing relationships with local and state policy-makers, BOMA/Chicago offers a wealth of resources, best practices, and professional development opportunities to building management teams to assist them in managing building operations in a safe and efficient manner for their tenants, staff and public.
Serving as the Collective Bargaining Agent for BOMA/Chicago Members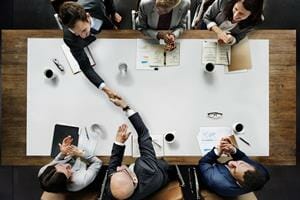 BOMA/Chicago holds the distinction of being the only BOMA local association to negotiate directly with unions as the collective bargaining agent for our members. Our Labor Committee which negotiates wages, benefits and working conditions for workers in the janitorial, engineering and security industries. The resulting labor agreements include advantageous terms that give our members flexibility in subcontracting, workweek scheduling and pensions and benefits. Learn more about BOMA/Chicago labor relations.